How to make your own water bottle labels

First you will want to figure out what size label to make. We used labels that a friend purchased for their wedding as a guide. These labels were 2.5 inches x 8.5 inches and are the exact same size as a Poland Spring label for a 0.5L bottle of water.

Next open Photoshop (examples are from version 6.0). Create a new image by clicking on File, New.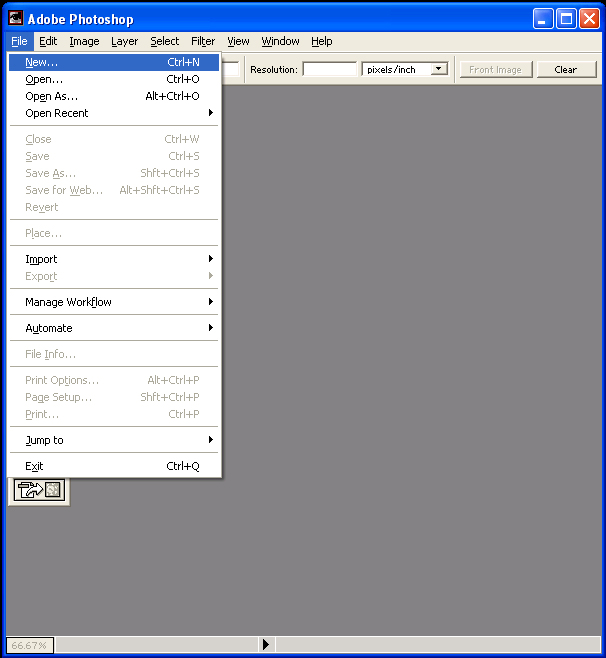 Choose your image size. Originally we used a width of 8.5 inches and a height of 2.5 inches. Unfortunately, the GIF or PDF this produced was a little pixilated so I doubled the size, to a width of 17 inches and a height of 5 inches.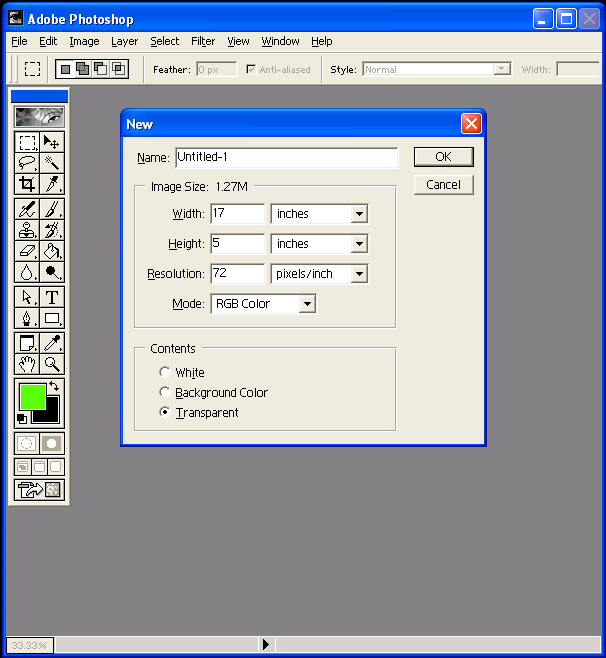 Then go ahead and design your label. You will want to leave some space on the left and right side of the label since most printers don't print edge to edge. You will also need some overlap space on the right side where the label will be glued to itself.
Also remember that you will see less than half of the label at a time. You will want to divide the label into two or three zones. We chose to do one large zone in the middle, and two smaller zones on each side. Another way to configure it is three equal sized zones, where two are the same logo and the third is the nutrition facts.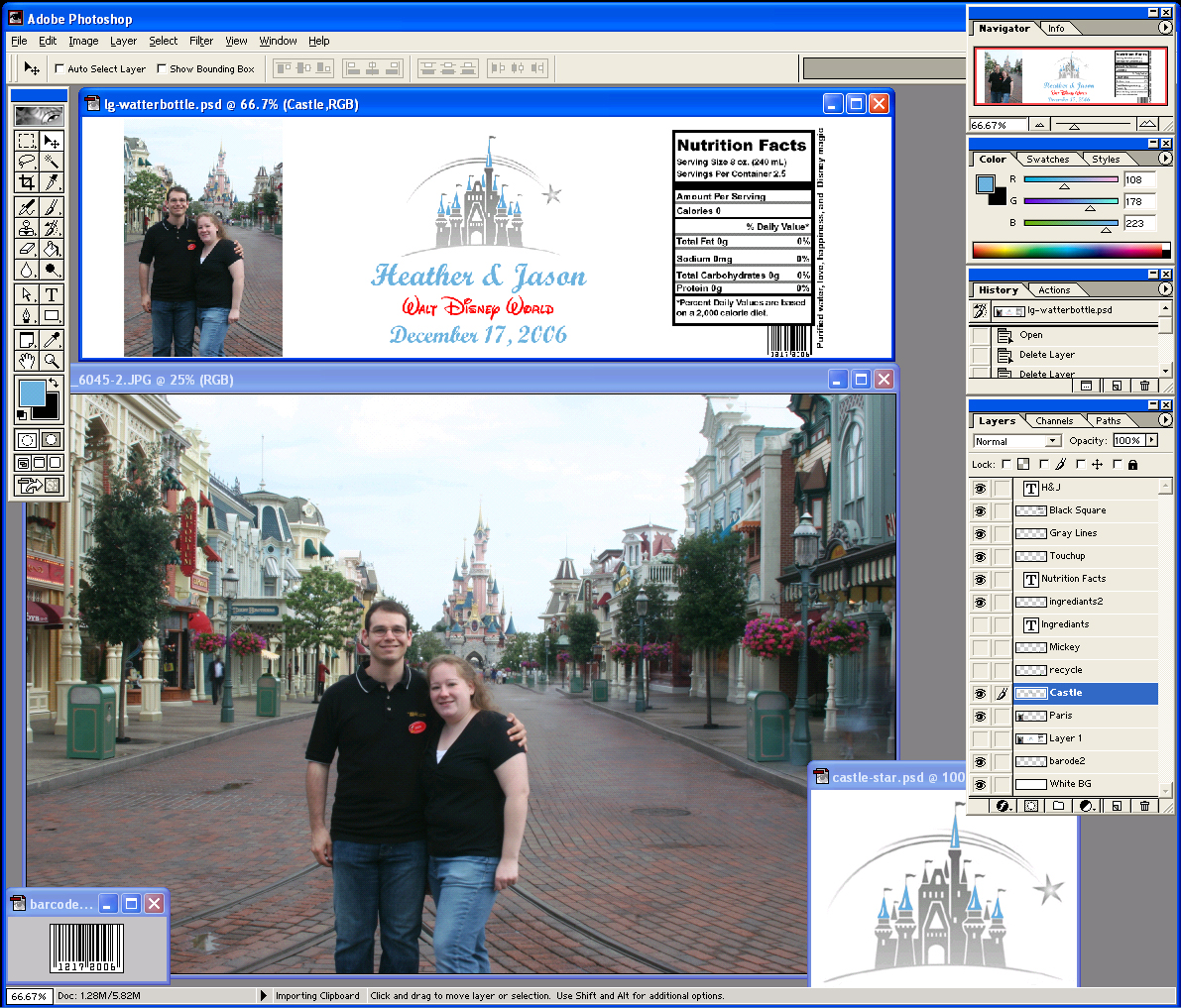 Once you have the label finished you will want to save the PSD. Then merge all the layers into a single layer by choosing Layer, Merge Visible. Then copy the layer by choosing Select, All.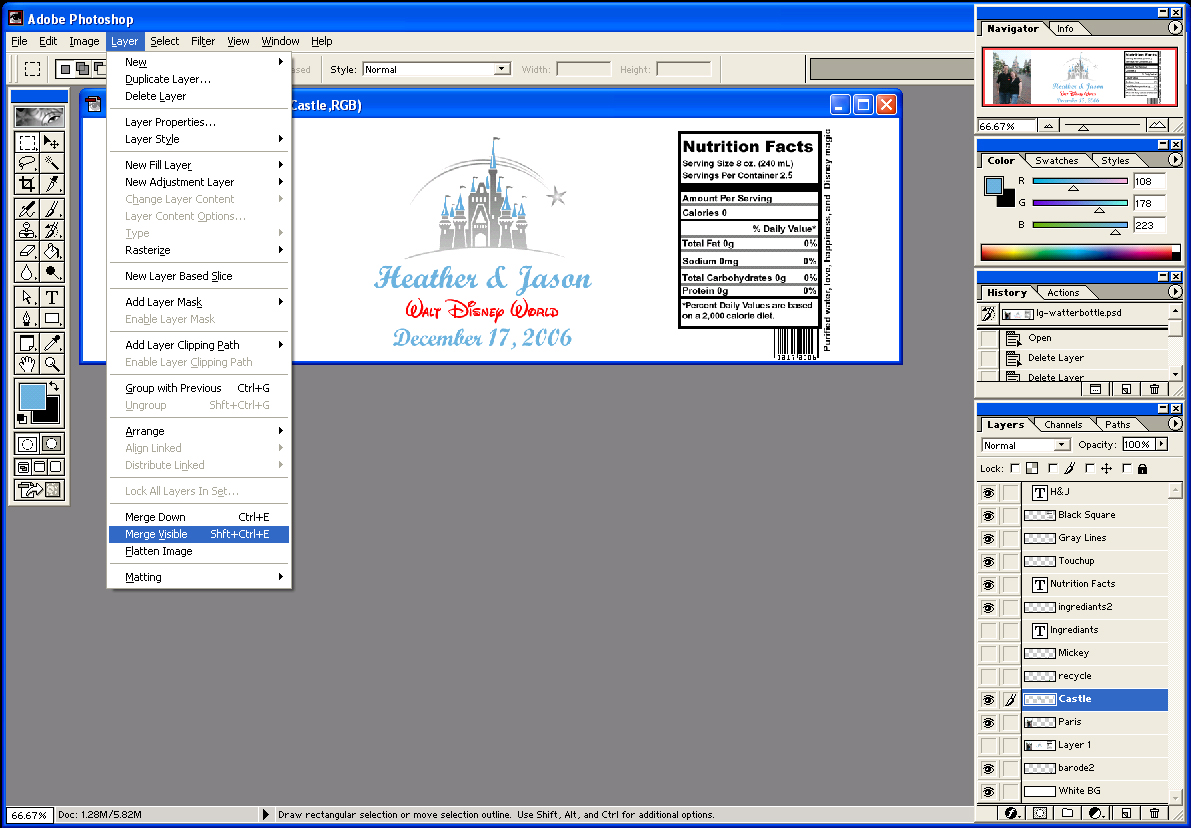 Now close the image. DO NOT save changes to the image or you will loose all of your layers!
Open a new image by choosing File, New. Your new image will be the exact size as what is copied to the clipboard, in this case a width of 1224 pixels and a height of 360 pixels (width of 17 inches and a height of 5 inches). Before clicking OK, modify the height to 22 inches. This will make the new image exactly twice the size of an 8.5 x 11 inch paper.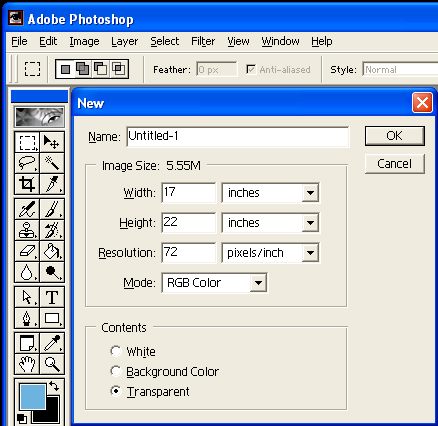 Now paste in the image from the clipboard by selecting Edit, Paste. This will put you image in a new layer in the center of the canvas.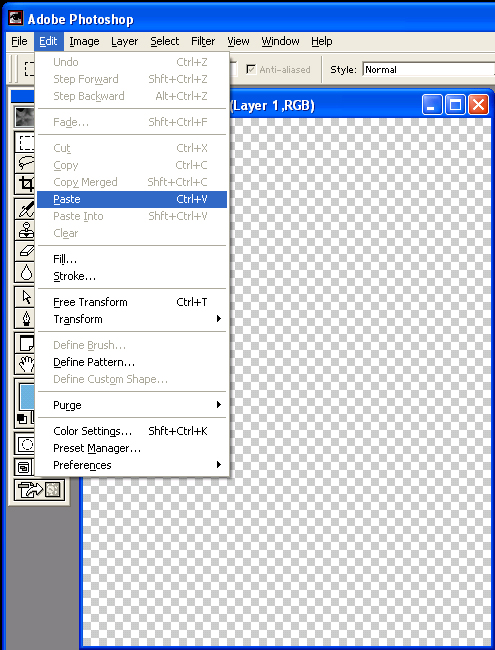 Use the move tool, to move you image to the top of the canvas. Leave a bit of space at the top as most printers cannot print to the edge of the page.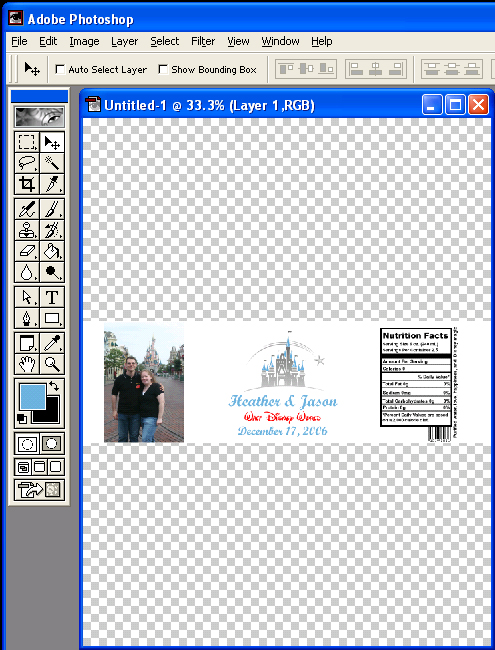 Paste in three more images and use the move tool to space them out accordingly. Also leave a bit of extra space on the bottom of the page as most printers cannot print to the bottom edge.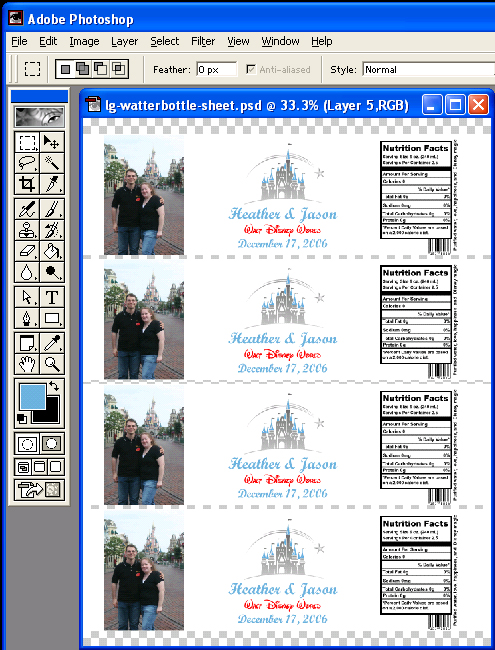 Before you print a test page make sure you have set the image to fit to an 8.5 x 11 sheet of paper. Click on File, Print Options.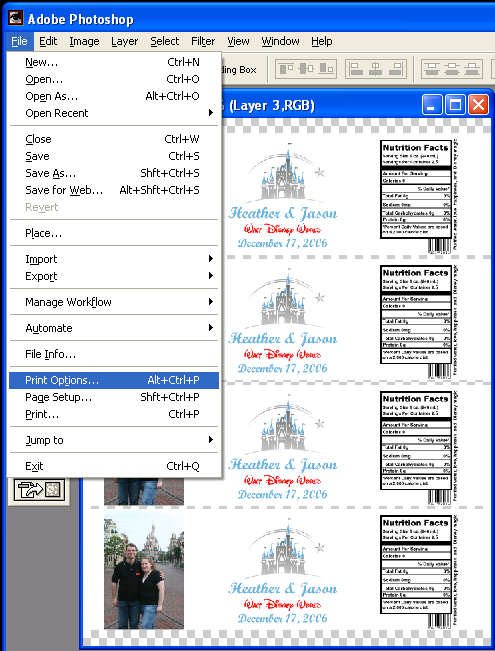 Check the checkbox to Scale to Fit Media.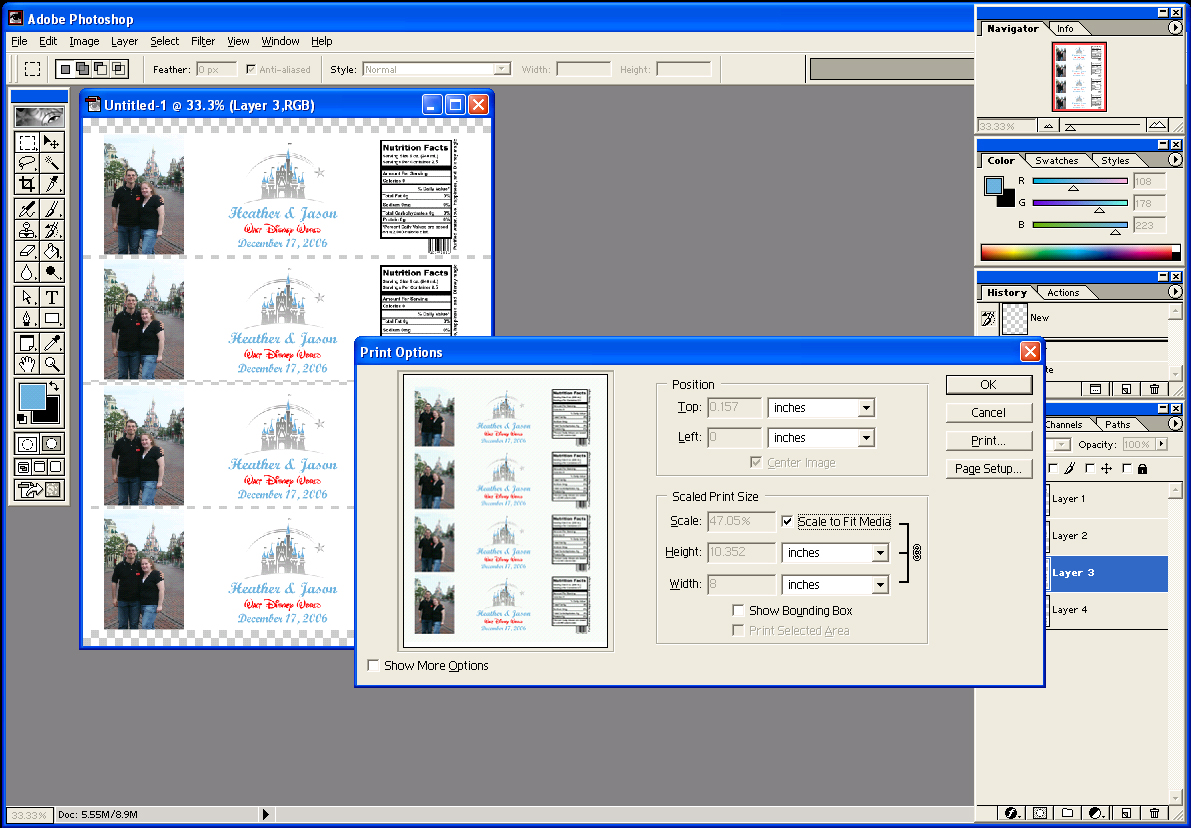 Once we were happy with the proof image, we then flattened the image and saved it as a PSD, and a JPG with no compression. We saved a JPG just in case Staples couldn.t read the PSD. We also flattened the PSD because some non-photoshop applications can read PSD files, but cannot interpret multiple layers. We put both images on a USB thumb drive and took it down to Staples. They could open the PSD and that one printed out better than the JPG. Note they had to poke around in their software to make if fit to the page.
We bought waterproof Xerox paper we found at Staples for about $13. There were 25 sheets, and we were able to get 4 labels to a sheet, which made 100 labels. We chose the laser printing version of the paper, and had Staples print them using their color copier. They have had color printing at 39 cents for a while, the total for the printing was $9.75. We will get the water bottles when we get to Florida, and pack a few Elmers glue sticks. The whole thing cost about $25 for 100 labels. We had originally looked at purchasing labels online or from ebay. It would have cost anywhere from $65 - $140 for 100 labels. Most places charged an extra fee of $25 to add a photo, and you had to choose from a limited selection of templates.
You can buy a simple paper trimmer for about $10 from the craft store, even less if you get one of the 40% off coupons they always have in the newspaper. We had printed a few test sheets, and used those to practice cutting.
Single label in photoshop format with layers
Sheet of four labels in photoshop format